THE CAMPUS
HGEA College of Pharmacy is situated in an area of 2.5 acres of peaceful, green, hygienic environment. With an excellent infrastructure, we have provided well-ventilated modern class rooms, well-equipped laboratories, Computer laboratory, library, modern auditorium, sport complex providing indoor and outdoor games, botanical garden, own transportation facility, hygienic food providing common canteen, and separate hostels for boys and girls.
PRACTICAL LABS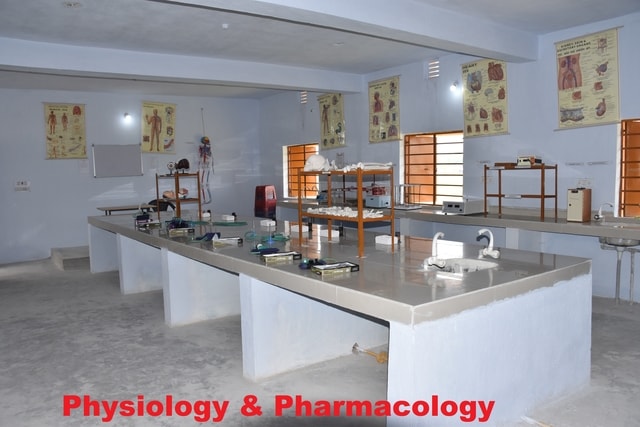 College premises has well ventilated, illuminated, spacious, comfortable laboratories per specialization of Pharmacy Curriculum with all modern instruments and equipments, each one is designated to cater requirement of respective subject of Pharmacy such as Pharmaceutics Lab, Pharmaceutical Chemistry Lab, Human anatomy & Physiology Lab, Pharmacology Lab, Pharmacy Practice Lab, Pharmacognosy lab, Machine room, Pharmacy Museum.
LIBRARY
Library is situated at peaceful, high ventilated location at the College premises with well furnished systemically organized facilities. It offers conductive atmosphere to the students for their studies at all time. Our library has more than 2000 reference and text books along with 250 yearly increasing order as per the PCI norms. Book bank facility for each student.
Our library provides Unlimited E-source as an Electronic-learning facility for reference work of Online Pharmaceutical Journals. The library is computerized, equipped with web-cam for safety The daily working time for all in the library is from 09.00 a.m. to 05.00 p.m.
MEDICINAL GARDEN
The College has a well-maintained Medicinal Plant Garden. It has hundreds of different varieties of medicinal plants tagged with their biological nomenclature. The medicinal plants garden is unique in that almost every one of the species of plants and herb with a long history of use in folk tradition.
This Medicinal plant garden offers interesting information about the plants in the garden.
Objectives of Medicinal Plant of College:
To make the students and the teachers aware of various herbal plants that can be grown in their College, be able to identify different plants and understand the economical and medicinal uses of these plants.
To develop the creativity of student by research and education in this aspect and reinforce the message of protection and care for the plants.
To achieve a cleaner and Greener Environment in and around their College campus.
To acquire the intimate knowledge of plants and their uses.
TRANSPORTATION
A full-fledged Transport department functions in the college with buses to provide transport facility to students and staff from various places. This service is offered ensuring a hassle-free and safe transportation.
The college runs buses for providing transport facility to students from various places in the city.
Route 1
College Campus
Route 2
Sonabad More
Route 3
Bahadurpur More
Route 4
Narayanpur
Route 5
Bandguda Chowk
Route 6
4 Line Telidih More
Route 7
Chas Bypass More
Route 8
Garga Bridge
Route 9
ITI More
Route 10
Naya More
Route 11
Police Camp
Route 12
Sector 12 More
Route 13
Sector 4 More
Route 14
BGH More
Route 15
Jodhadhi More